BSc (Hons) BDS (Hons) MFDS RCSEd MClinDent (Endo) M.Endo RCSEng
Specialist in Endodontics
GDC No. 228273
Vinay graduated from King's College London in 2012. After completing his dental foundation training in Leicester, he furthered his experience with Dental Core Training (DCT) posts in Oral and Maxillofacial surgery. He obtained Membership of the Faculty of Dental Surgery from the Royal College of Surgeons of Edinburgh in 2014.
He had a keen interest in Restorative dentistry, and he subsequently completed DCT posts in Restorative dentistry at King's College Hospital and Birmingham Dental Hospital. During this time, he developed an interest in Endodontics and subsequently started an MClinDent in Endodontology at the world-renowned Eastman Dental Institute, which he completed with distinction.
Vinay recently passed the Membership in Endodontics examinations from the Royal Colleges of Surgeons of England and is on the GDC Specialist list for Endodontics. He teaches and mentors postgraduate dental students on the Postgraduate Diploma in Endodontic Practice from the Eastman Dental Institute.
For the past three years Vinay has limited his practice to Endodontics, and accepts internal and external referrals for complex root canal treatment procedures, as well as diagnosis of dental pain, trauma management and internal bleaching. Vinay has a calm manner and takes the time to discuss treatment options with his patients. He strives to ensure that his patients are relaxed and works towards providing them the best level of care.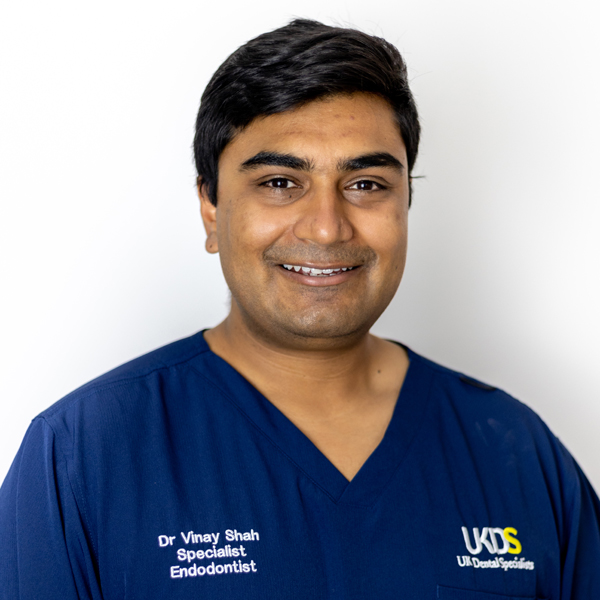 Dental Specialism: Specialist Endodontics
Experience: Over 9 years
Categories: Specialist Endodontics