At UK Dental Specialists, we highly value our patients feedback. We continuously monitor the feedback we are given to ensure that we are responsive and able to make any changes where necessary. This ensures that the services we provide to patients is the best it can possibly be.
Our success is measured by patients satisfaction with our services and the care they receive when visiting our clinic.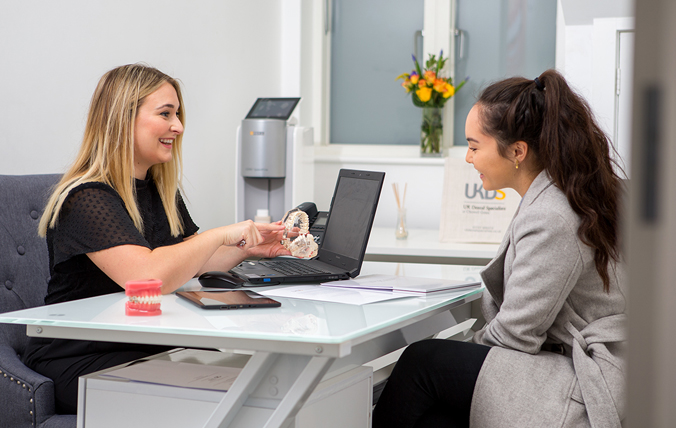 Had a root canal treatment on a molar today with Dr Claudio Peru. Completely pain free treatment and all signs showing it was a successful treatment.
The surgery is COVID safe with all of the necessary procedures in place. I would 100% recommend UK Dental Specialists.
Had a complicated root canal treatment this morning with Dr Franco. He and his very nice assistant made me feel at ease. I had a bit of a dry throat, but they were happy to stop when required to allow me to cough and get comfortable again. I felt completely at ease and confident that I was getting the best possible care. Returning in January for further treatment with Dr Shah. Excellent dental centre, welcoming team with modern facilities. Thoroughly recommend! If you have a fear of the dentist or suffer from health anxiety UK Dental Specialists are without doubt the place to go to. The care, explanations, and focus on me as an individual were superb. I was impressed with Dr Deysel who handled my sedation with excellent and gentle care. He seemed well experienced in handling extremely anxious patients and took time to put me at ease. I started the treatment with surprisingly high blood pressure (due to the anxiety) but it was down to nearly normal levels during the root canal procedure. I even fell asleep for a bit whilst in the chair!! I was also impressed with my dentist, Miss Quinn, and her dental assistant. The level of care, professionalism and skill was of the highest order and very much appreciated given my high levels of anxiety. At no point was I in any discomfort. I was really appreciative of the many opportunities to ask questions and to receive really clear and straight forward responses. Given I suffer from acute health anxiety it took a lot to go ahead with this treatment, but I can sincerely say it was a pleasant and relaxing experience. In the 24 hours following the treatment I have been in no pain or discomfort. So far I am completely back to normal. I should also say the team in reception were very supportive and communicative. I would recommend UKDS to everyone and anyone. Super impressed. My visit to the dental specialist was very well organised with the covid rules and I felt extremely safe from the moment I entered the building. The staff are friendly polite and aim to relax you. Stefan was an easy man to understand ,explaining everything in words I could understand and I felt confident in his hands that my problem would be resolved !A very long appointment of 2 hours left me feeling it was the only solution to a painful problem-what a good team he and his nurse were!! Considerate care from a highly experienced pair, thank you so much. I can highly recommend these specialists for dental work as it can be a daunting experience even without the added problems of covid. Again a very big thank you to you all. I am very happy to recommend Chiswell Green Dental (UK Dental Specialists), having visited there a number of times for dental treatment. I am an experienced dentist myself so value the high level of care provided my colleagues. I went to UK Dental Specialists to get an implant done for one of my two front teeth. The process involved an extraction, the implant surgery and the measuring and fitting of the tooth. The service, staff and finish was second to none. The tooth looks exactly like its neighbour and it's impossible to tell that it's an implant. The process was explained to me clearly from start to finish, I was made to feel comfortable, and the finished product is excellent. Highly recommend! Excellent professional fully informative service and provides you with the choices of the best care for you both immediately and long term. Staff are very friendly and reassuring. The aftercare is also excellent. Thoroughly recommended Dental Specialists. Thank you! Just wanted to say a big thank you to Kostas Ioannidis, for the root canal treatment I had earlier today, and to the entire team at Chiswell Green! I had been a bit apprehensive because of the current Covid situation, but I was most impressed by the 'best practice' procedures in place, right from the start. They have gone to great lengths to create the safest most sterile environment they possibly could, for patients and staff. Great team effort, and I felt completely at ease. Thank you again. Highly recommended. I was referred here from my usual dentist late last year for a difficult root canal and crown lengthening procedure. They had some of the best equipment at their disposal to offer me a fantastic experience and problem free treatment. The specialists were knowledgeable and very kind and so were the receptionists! If I ever need specialist treatment again in the future, I need not look any further than here! Thank you again! Had a tooth extraction today, very nervous but my mind was put to rest with Dr Patel, excellent care, didn't feel a thing, and kept well informed with the extraction and after care program. Highly recommend I was booked in for a re root canal. the whole process was excellent from online medical forms, communication in general including explaining exactly what to expect.  They used a rubber dam to catch any debris which looked terrifying from the pictures but actually made the whole experience much better. there was less equipment in my mouth and I was able to breath and swallow as normal.  Nothing nasty in my mouth at all. I was numbed perfectly and there was only a little tender the next day.  would highly recommend. Having root canal work can be daunting at the best of times, but I can honestly say all the staff were delightful, helpful, caring and efficient and made you feel comfortable and at ease the whole time I was there Lovely helpful people on reception. Very covid aware. Ultra professional. I had root canal treatment with Ashley Quinn who is so chilled & relaxed I felt as though I'd been for a facial!!! Always very professional- now the practice is fully set up to deal with the COVID virus as well. I felt well protected and that my well-being was their major concern. I'm sure we will eventually all get used to wearing PPE in any activity that needs close personal contact. Thank you 🙏 I was very nervous as having root canal treatment for the first time, but the staff were very reassuring and put me at ease. Treatment went well with no pain. Definitely recommend UK Dental very kind, caring and professional. I am so impressed with the integrity and professionalism of Dr Peru giving me objective advice rather than going forward straight away with potentially costly treatment. I am a very nervous patient. Dr Peru and his nurse made me feel relaxed, calm, were reassuring and made me feel I had control during the whole process. All the staff were extremely professional and caring. Good explanation of treatment, friendly attitude in the dental room, good atmosphere with nice music which helped distract during a lengthy (but not painful) procedure. Extremely good practice. Dr Peru made me feel very welcome and gave me confidence in his work and knowledge. Cutting edge equipment used which really impressed me. Reception staff were very nice and so helpful when I needed an emergency appointment due to a lot of pain. Friendly and highly professional practice. I recently visited Chiswell Green as I was in excruciating pain. The last work I had on my tooth was at 12 years old when I needed a filling (40 YEARS AGO). I was extremely anxious, when I saw Dr Peru who immediately put me at ease as he informed me I needed urgent root canal. I reluctantly agreed to go ahead without sedation and Dr Peru was true to his word – it was pain free and very relaxing. Thank you for restoring my faith in dentistry. Hopefully I wont need to return but if I do, I will be very happy to revisit Chiswell Green! I cannot praise the Chiswell Green Dental Centre highly enough. I was assured by my Endodontist that my root canal treatment would be a pain-free experience – and it was. No pain either during or afterwards. Dr Peru and his team were reassuring, attentive and every step of the treatment was explained clearly and patiently. I could not have asked for a better dental experience.
Would you like to leave a review for us?